A very special edition of the monthly blog! The original blog post will be pushed to next month in lieu of something more important and exciting!
Mythlink is currently a candidate in the Game Development World Championship, weekly fan favorite contest! For those of you who want to cut straight to it, the link is here:
Simply scroll down a bit, click on the "Vote" button under Mythlink, and you're done! No registration or other input required.
Now for a little background…a few weeks ago Home Point Games was contacted by the staff at the GDWC asking to join their platform. It seemed like a great opportunity for exposure, so of course Mythlink was added. There are several categories, including standalone VR categories. Mythlink has been added to all relevant categories. This week is special because it's for the fan favorite category which relies on your vote to advance Mythlink to the next round. As far as I am aware, there are only 2 rounds. So, if we make it, it's onto the finals!
Only games which are in the demo phase or have been released in the current year are eligible, so expect Mythlink to take part in the GDWC next year as well when the full game releases.
Thanks to everyone for voting! And here is one of the Minorod animations I promised to show. Excuse the colors/lighting, still in progress. Come back for more next month!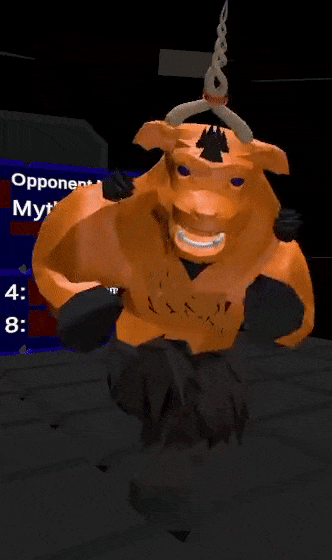 I think he's running to go vote for Mythlink…
The GDWC 2021 Weekly Favorite Round 1